Ouagadougou regional workshop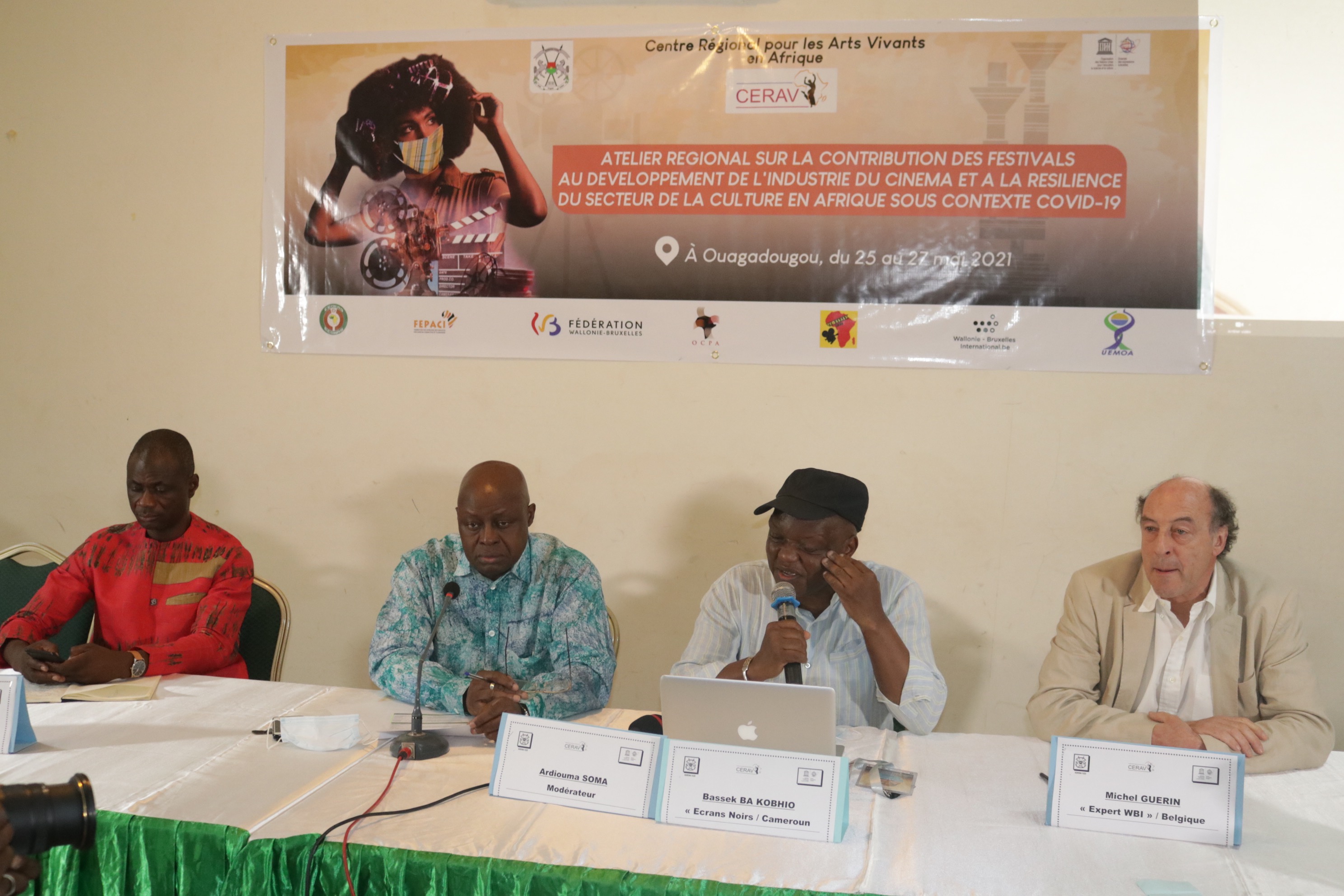 From May 25 to 27, 2021, the regional workshop on the contribution of festivals to the development of the film industry and the resilience of the culture sector in Africa under the Covid-19 context was held in Ouagadougou. Organized by the Regional Center for Living Arts in Africa (CERAV/Afrique), a UNESCO category II centre, with the support of its technical and financial partners, including Wallonie-Bruxelles International and the Observatory of Cultural Policies of Fédération Wallonie Bruxelles, this workshop was chaired by the Minister of Culture, Arts and Tourism of Burkina Faso. About fifty professionals and experts from several African countries including Benin, Burkina Faso, Cameroon, Côte d'Ivoire, Mali, Mozambique, Niger, Nigeria, Senegal and Togo have participated in these days of exchanges.

During 3 days, this workshop, which coincided with the celebration of Africa Day and the entry into force of the Charter for Cultural Renaissance of the African Union, invited professionals, experts and organizations of film festivals as well as regional institutions and organizations such as the African Union, ECOWAS, UEMOA, the Pan-African Federation of Filmmakers (FEPACI) and the Pan-African Film Festival (FEPACI) and the Pan-African Film and Television Festival of Ouagadougou , to reflect on the conditions for improving the impacts of festivals on the development of the cinema industry in Africa in the context of Covid-19.

Based on the results of the study commissioned by UNESCO with a view to supporting African States in the creation of cultural and creative industries, the participants discussed the systems of sustainable governance of festivals, their economic models, the professionalization of players in the value chain as well as the development of network dynamics to strengthen a creative, endogenous and efficient film industry. Attached to the 2005 UNESCO Convention, issues relating to human rights, freedom of expression and gender in the cinema sector were discussed, considering that festivals contribute to an awareness that promotes individual emancipation and on these issues in societies in general.

Observing the positive side of the global health context, Covid-19 has favored the integration of new media and the consideration of the digital environment as alternatives ensuring the international visibility of festivals.
At the level of cooperation, Wallonia Brussels International notably presented the economic instruments deployed in West Africa to support the cultural and creative industries in the cinema sector.

Communication Department
Download the worksop report: