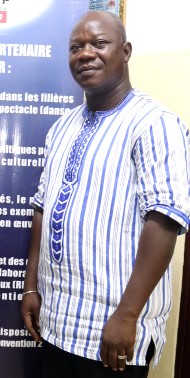 Dear Partners,
Dear Internet Users!
Welcome everyone to the CERAV / Africa website!

The Regional Center for the Performing Arts in Africa (CERAV / Africa) is a UNESCO Category 2 Center whose creation was authorized by the 35th Session of the General Conference of UNESCO held in 2009.
Its birth is the result of a common desire to offer the African continent a new instrument for exchange, cooperation and training, a framework for meetings, reflection and the impetus for new actions aimed at boosting the African cultural sector in through the reinforcement of the creative potentialities and the promotion of the industries of the performing arts as well as the cinema and the audio-visual one.
CERAV / Africa is also responsible for supporting African States in the implementation of the 2005 Convention on the Protection and Promotion of the Diversity of Cultural Expressions.
Through this portal, CERAV / Africa intends to establish a relationship of trust marked by dynamic pro-activity with its partners, with African cultural operators and with Internet users.
We invite you to work with us, to help meet the many development challenges of the Africa region by acting on the registers of strengthening cultural and creative industries and the promotion and protection of the diversity of cultural expressions.
This site, which is yours, is part of this dynamic and it is with you that we will work to ensure that it fulfills the function of information, communication and sharing in the service of cooperation and cultural exchanges. on a continental scale.

Welcome !